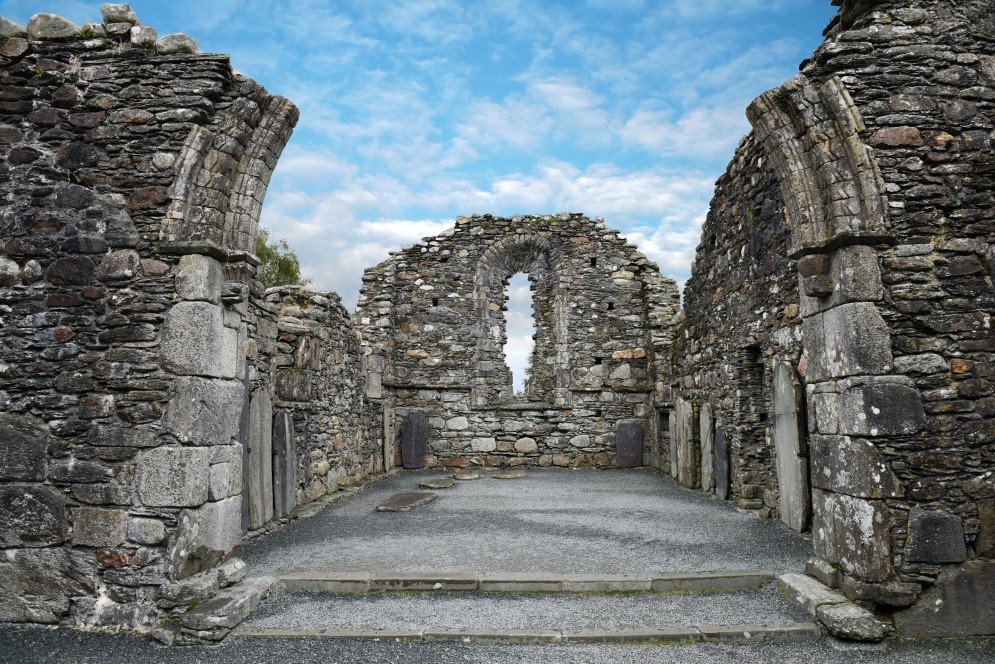 Ancient Irish Sites bringing stress relief in a Covid World
In these difficult times we are disconnected from family and friends, from work colleagues, from Nature, from the familiar and the certain.  SolasVR was developed to harness the power of Virtual Reality to deliver that connection; the connection to Nature, to ourselves and to certainty.
SolasVR combines the immersive new technology of Virtual Reality and the latest learning on Microbreaks, Mindfulness and the healing power of Nature to deliver virtual visits to ancient Irish Sites and landscapes.
Whether we are transported to Glendalough Cathedral or the Stone Circle at Athgreany we can access guided meditations, music drumming, Nature sounds or silence to reconnect with Nature and ourselves.
The app is available, from September 2020, for free download on Android and iOS mobile devices and Oculus and Pico headsets. Upon free sign up, the users immediately access one free meditation, that can be played unlimited times. The selected free meditation is ideal for a micro-break, this scientifically supported small pause during a busy day that refreshes the mind and boosts creativity and productivity. This aspect of VR meditation upgrades it to a powerful tool for corporate life too, especially for those organizations that realize the importance of investing in the wellbeing of their teams.
A paid subscription, starting from €8.25 in the annual plan, unlocks all the breathtaking locations, different voices, durations and themes. The real-life sceneries trigger the same mental reactions as the actual experience, restoring, to some extent, our connection to nature and allowing the mind to unwind. This is the simplest and most feasible way to wander by a lake or walk in the mountains while living the urban life.
When we, or our employees, are under pressure, when we are stressed or anxious, when we need a break but have no time we simply step into SolasVR transporting ourselves to the scared sites or the Waterfall, Forest or Lake and reemerge calmer, more centered and energised.
The Community page provides ongoing support with an active community of like-minded people, providing reflections, scientific findings, everyday wellness hacks and weekly wisdoms to initiate and support the discussion that will bring us closer to our fuller life. The new VR app builds a new setting for everyday wellbeing on the eternal wisdom of nature and the cutting-edge technology of virtual reality. A VR app that challenges everyone to be more.