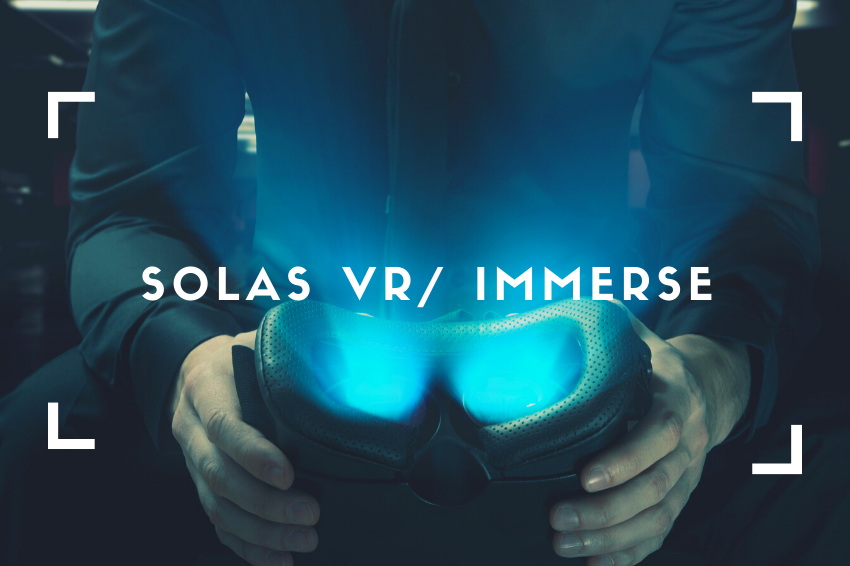 Immerse partners with Solas VR to bring wellness to the remote workforce
Wednesday 7th April, London- Press Release
Enterprise virtual reality (VR) software provider Immerse has today announced its new partnership with Solas VR, a leading meditation app. This partnership will enable organisations to access a library of VR meditations that can be easily integrated into the Immerse Platform and deployed to employees across organisations. 
Virtual Reality is enhancing human performance in ways that were once unthinkable. Today, it is transforming the way we learn, explore and interact. With a global customer base and customers such as DHL, Nestlé and bp, the Immerse Platform creates an all-in-one solution for enterprise organisations. This partnership is part of an ongoing initiative from Immerse to build an ecosystem where the Immerse Platform will empower and enable organisations to embrace the future of training in the workplace.
The past year has been particularly challenging not only for businesses but workforces too. Mass homeworking has left employees struggling to maintain a healthy work-life balance, with the additional stress of the pandemic bringing its own challenges too. Solas VR has developed an innovative meditation app to boost mental wellbeing and brain productivity through meditation, which will be hosted on the Immerse Platform. Drawing from solid scientific data and empirical studies, this synergy aims to multiply the effectiveness of training, through better focus and open-mindness, achieved via mindfulness. The partnership will empower organisations to enhance employee engagement and performance, providing a new approach to mental health and job satisfaction. 
The initial library of Solas VR experiences to be made compatible and available through the Immerse platform include:
The meditation space:

A wide selection of 360 videos capturing the nature of Ireland, that can be used in different meditation experiences. The user selects the duration, the voice of preference and the background sounds, to create a personal and unique mindfulness journey. 

Weekly Wisdom:

An area dedicating to reflection and self-discovery. This unit is updated regularly to provide the audience with new stories and discussions to guide them into their self-improvement pathways. 

Breathing space:

Breathing exercises for all levels of experience. 
Tom Symonds, Immerse CEO comments: "The Immerse team are excited to be working with Solas VR to help encourage mindfulness in the corporate environment. We understand the importance of having a healthy and happy workforce, and the capabilities of virtual reality will allow those who receive the content to incorporate it more effectively than traditional methods. Partnering with Solas VR is a great step in our endeavour to enable businesses to capitalise on the opportunity offered by immersive technology in multiple ways." 
Stephen Pitcher  Managing Director at Solas VR adds: "We're very excited to be working with Immerse to help bring meditation, and subsequently a better sense of wellbeing, to as many people as possible. The last year has been difficult, but employers who prioritise corporate mindfulness will gain a sustainable competitive advantage as looking after your employees is more important than ever."