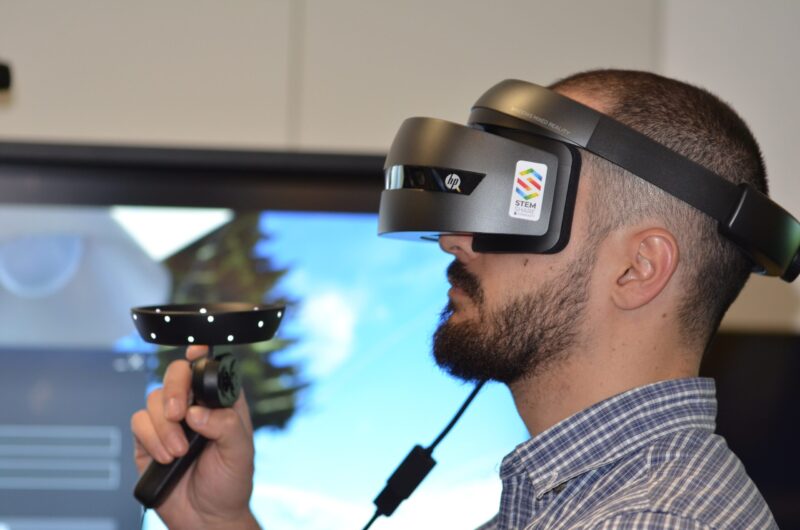 The power of Virtual Reality Technology
Developments in VR technology have been remarkable: new technologies, new applications and a strong interest from health professionals, researchers and academics have put VR at the core of research activity.
What we know so far is that Virtual Reality supports learning and boosts memory, helps in chronic pain relief as well as being highly successful for PTSD treatment. As a part of our e-book, we primarily reference academic resources that report results from experiments, with a focus on mindfulness and how VR impacts the brain. There is a broad consensus that VR enhances the meditation experience through content that allows the mind to focus and unwind – like the 360 cinematic videos on the Solas VR app. This can be understood through the fundamental brain biology: as thoroughly explained in a 2019 publication (Neuroscience of Virtual Reality: From Virtual Exposure to Embodied Medicine) the brain and VR technology share the same basic mechanism: embodied simulations, meaning representations and predictions of the self in the environment. Simply put, as the brain prepares itself to react to different environments by imagining them, VR provides the mind with these environments in an artificial way. Additionally, according to a Forbes article, "Meditation, coupled with VR technologies, can be more precise and personalized and make the learning curve easier. Plus, when wearing a headset you are truly transported, making it easier to tune out of any distractions around you and focus".
Employers are facing a dilemma: Their workforce needs to learn new skills, upgrade existing capabilities or complete compliance training, but may not be able to do so in person given the current environment. Yet, training is especially important now, with employees to keen to gain skills, and it may become even more critical when workers start returning to a changed workplace. So how can employers deal with the challenge? The effectiveness of Virtual Reality in hard skills training has been established for some time now, with the use of simulators for pilot training for example. But, there is now equivalent findings for the case of soft skills, so PWC run an experiment: they conducted the same training program (inclusive leadership) in three different learning modalities: classroom, e-learning, and VR training and they monitored the results in terms of the the process effectiveness and the training outcomes. What they found builds a new case on the use of VR in soft skills training: 

VR training is 4x faster than classroom training. What took two hours to learn in the classroom could possibly be learned in only 30 minutes using VR. When you account for extra time needed for first-time learners to review, be fitted for and be taught to use the VR headset, V-learners still complete training three times faster than classroom learners.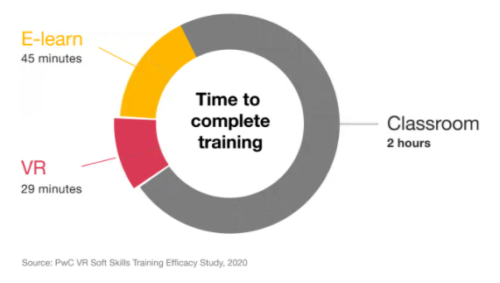 VR learners are more confident in applying what they're taught, which is essential in the case of soft skills. What makes the difference in VR training is that learners can practice their skills in a controlled and safe environment.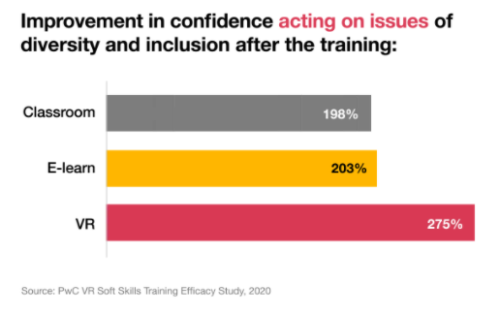 Employees are more emotionally connected to VR content, they understand and remember things more deeply as their emotions are involved. What we actually have here is a game changer for training.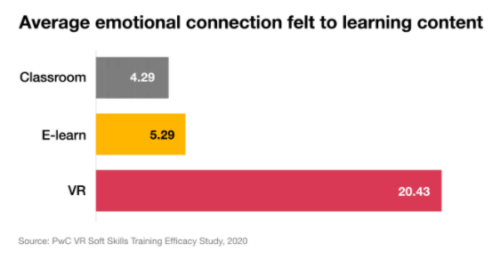 With VR learning, users are significantly less distracted. In a VR headset, simulations and immersive experiences command the individual's vision and attention. There are no interruptions and no options to multitask.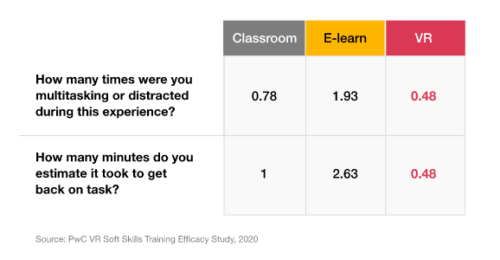 VR learning can be more cost-effective at scale. According to the PWC case study, At 375 learners, VR training achieved cost parity with classroom learning. At 3,000 learners, VR was 52% more cost-effective than classroom.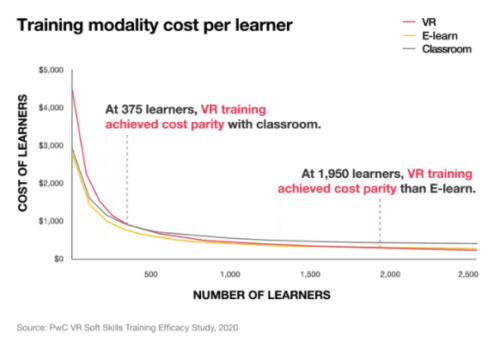 By the same token, in 2019, Prof. Spiegel and his team conducted extensive research, including a comparative experiment with a randomized sample of hospitalized patients. The hypotheses referred to the extent VR technology can significantly help in the treatment of chronic pain. The experiment took place on the Cedar Sinae Medical Center: the patients were randomly distributed in two groups. In the VR group, patients were asked to use the headset for 10 minutes in the presence of study staff to practice with the equipment, and then advised to use the headsets thrice daily, for 10 minutes per session, and as needed for breakthrough pain over the subsequent 48-hours. Patients in the control group were instructed to tune their television set to the "Health and Wellness Channel", which is available in all rooms throughout the hospital. The programming includes guided relaxation content (e.g. yoga and meditation), discussions about health and wellness topics, and poetry readings. This practice also resulted positively in pain relief in previous research. The results confirmed the initial hypotheses that VR would have positive effect on pain relief. As they reported: "VR significantly reduces pain versus an active control condition in hospitalized patients. VR is most effective for severe pain. Future trials should evaluate standardized order sets that interpose VR as an early non-drug option for analgesia."
Download our free e-book on corporate mindfulness and allow your team to be more.